Learn Spanish in Spain for over 50s
More of life is lived outdoors here, partly thanks to a wonderful climate. Consequently, you can join all sorts of cultural and adventure activities throughout the year. Morocco is also just a short boat ride away. Not bad!
What's more, prices tend to be cheaper in Andalusia than the rest of Spain. The delicious free tapas help you stretch your budget even further! Where else can you find all this? So why not start your search here?
Learn Spanish in Spain for over 50s | The best choice of locations. Read on!
---
Part of the leading network of worldwide Spanish schools, Enforex moved into their new premises in 2017. It forms part of a worldwide network of Spanish schools. Bright, modern classrooms, comfy shared spaces, an extensive range of courses and an on-site residence help make this a popular choice. It is situated in the trendy barrio Realejo, not far from the Alhambra and central Granada. In summary, all you need from a Spanish school in one place. 

---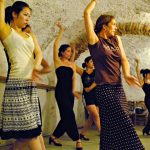 Granada: Carmen de las Cuevas
Learn Spanish in a cave! If you are looking for a spectacular location and genuine Andalusian ambiance, then this is the place! Being a renowned school of flamenco, you can also combine Spanish + Flamenco. Study in small groups while enjoying some of the best views in Spain. You can even stay in an apartment with views of the Alhambra! Last but not least, you'll study with students from around the world. ¡Olé!
---
A wonderful option for those wishing to study close to the crystal waters of the Mediterranean. The Sierra Nevada provides a beautiful backdrop. "High quality" is the best way to sum up this family-run school. It describes it's range of courses, accommodation options, cultural activities and all-round service. Above all, this in an ideal choice for business clients and over 50 students who want to learn Spanish in a relaxing and beautiful environment.

---
Firstly, we chose to work with this Spanish school because of it's excellent location. It is just 5 minutes walk to the beach and 20 minutes to the centre. The views of the Mediterranean are breathtaking. However, it is important to realize that this Spanish school has built it's reputation on high-quality courses and accommodation. Being that it is a family-run school, it's no wonder that students soon feel at home with it's Spanish immersion experience. ¡Vamos!

---
Without reservation we recommend this well-established school to learn Spanish in central Malaga. High-quality teaching lies at the heart of all 3 CLIC Spanish schools in Andalusia. Moreover, it's bright classrooms and modern facilities enhance the professional learning environment. Coupled with a variety of Spanish immersion activities, it is easy to understand why this is a successful school for all ages.

---
Firstly, this multi-award-winning centre provides a wide range of programmes, leisure and learning resources. The campus is situated 10 minutes from the beach and 15 minutes by bus from central Málaga. It's teacher training and 50 Plus courses are very popular. You can enjoy the swimming pool, gym, dance studio, bar, restaurant and stay in the 94-bed residence. A wonderful place to learn Spanish in Málaga. ¿Por qué no?

---
Learn Spanish in style in this recently renovated historic building. A wide range of courses are taught within bright modern classrooms. It's located in the heart of the city, close to the museums. The beach is just a five-minute walk away. Furthermore, a dynamic programme of cultural activities and excursions is offered. It offers a good range of accommodation within a convenient distance. A great option to learn Spanish in Málaga.

---
Without a doubt, this award-winning Spanish school in central Seville is worth considering. Part of the International House group since 1997, CLIC offers a high-quality all-round service for children, families and adults. It's 50+ programme is very popular. The teachers are highly qualified and teach through a range of up to date methods. Of course, a good range of accommodation is also offered. A dynamic socio-cultural programme also adds to your immersion experience.

---
A wonderful school to study Spanish, socialize and stay cool in the characteristic heat of central Seville. Fourteen spacious classrooms, modern facilities as well as a chill-out roof terrace grace this historical building. Great teachers and support staff will help make learning Spanish easier and so enjoyable.